Category >

Disability Rights

America's Next Top Model has exposed us to so many different types of models…Plus size, short girls, tall, skinny, what else can we expect?

Well..Britain is taking it to a whole new level…they are giving women who have disabilities a chance to show that they can be amazing models as well!

According to the New York Times, "The fashion world may be the last bastion of prejudice, a field that overtly discriminates against people because of their looks. So there is something both bold and troubling about "Britain's Missing Top Model," a reality show that begins on Tuesday on BBC America that pits disabled women against one another to compete for a photo spread in the U.K. edition of Marie Claire magazine.
One thing never changes in the beauty industry, however: an ounce of fat is a greater hurdle than a missing limb. "Rebecca's disability didn't cause me any problems," a photographer says after shooting Rebecca, 27, a stunning brunette who was born with a deformed hip and wears a prosthetic leg. "It was just the fact she's not really in shape. Most models are pretty toned, slimmer, more agile."

@BBC/FLICKR
-click here to view more photos of the women on the FLICKR PhotoStream
Wow!
The author discusses and compares both Britain's Next Top Model to America's Next Top Model. The crazy irony of how Tyra tries to mix it up in her show, but still manages to eliminate a group or offend another.
"it's a contest designed to raise the profile and confidence of disabled women but makes a spectacle of their hunger for acceptance. "Missing Top Model" tries to bolster self-esteem yet revels in the piquancy of physically imperfect women competing in a profession that demands physical perfection, which one judge defines this way: "It's what 99 percent of the population do not have and never will."
So, what does that say about society? Does imperfections determine how far you can go in your life? Will America's Next Top Model tackle women who are disabled?
Does shedding light on young women who are disabled with fashion dreams really make a spectacle of their disability and does it make it harder because 1) they are disabled and 2) they also have to worry about the fashion world and society's obsession with weight on top of having a physical condition?

@BBC/FLICKR Photostream
-click here to view more photos of the other contestants on the FLICKR Photostream for BBC America
During the experience people passing by are introduced to the aspiring models, and many believe this will be both empowering but also cause conflict and discomfort with the readership….especially when they have a disabled model with a amputated leg modeling lingerie…
A young man in a fleece cap says he is impressed that she is not scared to show her stump, "because she's beautiful at the same time, so she's got nothing to hide." A middle-aged woman agrees, but worries about using amputees to appeal to prurient tastes. "Personally I think it should be emphasized," she says. "But if it's to sell something like lingerie I think people are going to be troubled."
Any thoughts? What do you think?
According to the New York Times, "Whatever initial shock there is at seeing pretty young women who are missing an arm or a leg wears off quickly. All eight aspiring models are good-looking and likable, at ease with their disabilities and the camera. They are told by their mentor and coach, Jonathan Phang, a fashion consultant, that they were not chosen to make a political statement but to prove themselves as models: the one with the best chance of actually having a career will win. The contestants' desire to be desired, not pitied or patronized, makes sense."
My Thoughts….
This is going to be an interesting season to watch. How do you feel each of the contestants will fair with the criticism and questions? Being disabled is not something that is to be glamorized, it's something people have to deal with on a daily basis. They are strong, beautiful, and courageous normal people just like you and I. Do you think this show is making a mockery of being disabled? How do you feel about the fashion industry catering to a new audience? Is this a step in the right direction or is this ridiculous?
I would love to hear your thoughts!
To read more of the article, click here.
It's that time of year, and I, for one, am glad. It's easy, when you do this kind of work, to get mired in all the horrible things that need to change, like, two decades ago, and to miss out on the fact that we've actually got a lot to celebrate. Here, in no particular order are a few of the things that are making my gratitude list this year:
-I'm thankful that Emma Thompson responded to the petitions of feminists and withdrew her name from the list of famous Roman Polanski apologists. And I'm even more thankful that Caitlin Hayward-Tapp and everyone at Shakesville had the vision and optimism to inspire her to do it.
-I'm thankful for Glee, despite its flaws, for continuing to be such an unabashedly sex-positive show. And for being so freaking fun to watch. And I'm thankful for Precious, despite its flaws, for presenting the story of an abused young black woman who manages to transcend her brutal circumstances without a makeover or a man. And for introducing us to the fantastic Gabby Sidibe, whom I hope to be seeing a lot more of on my movie screens in the near future.
-I'm thankful that Tucker Max's movie bombed at the box office. For a ton of reasons, but primarily because that means we probably won't get a sequel, or a bunch of copycats.
-I'm thankful that Amanda Hess started writing her The Sexist column for the Washington City Paper, because she makes me laugh and makes me think and makes me feel so much more sane and generally cuts through epic amounts of BS on the regular. The only part of me that's not thankful for her is the part that's jealous of how good she is.
-I'm thankful that congress passed The Matthew Shepard Act, which expands the 1969 United States federal hate-crime law to include crimes motivated by a victim's actual or perceived gender, sexual orientation, gender identity, or disability, and that Obama signed it.
-I'm thankful that Obama cut all funding for abstinence-only education from his 2010 budget. I am far from thankful that the Senate has put it back in. I'd be thankful to you if you called your senator and demanded that it come out again.
-I'm thankful to all of the leaders at CounterQuo who are working together to challenge the way we as a culture respond to sexual violence. I learn from them every day.
-I'm thankful that the book I edited with Jessica Valenti, Yes Means Yes, Visions of Female Sexual Power and a World Without Rape, has sparked so much inspiring discussion about enthusiastic consent, female sexuality, and how to stop rape, and I'm thankful for Jessica and all of our amazing contributors and everyone else who made it possible. This time last year, it would have been impossible to imagine that our little book would become a course at Colgate University, or be selected by Publishers Weekly as one of their Top 100 Books of the Year. And I never would have known how encouraging it would be to get to travel the country talking to hundreds of young people who are already fired up and ready to do what it takes to change the culture for good.
-I'm thankful that over 75% of MA voters support passing a law prohibiting discrimination against transgender people in employment, housing, and public accommodations. And I'm even more thankful for the work that the Mass Trans Political Coalition has done in getting such a bill introduced in the state legislature. I'd be even more thankful if the state legislature would stop "studying" it and actually debate it and vote it into law. And those legistlators would be thankful, too, because a majority of voters in MA say that they're more likely to vote for their legislator if their representative votes for the bill.
-I'm thankful that Rihanna has decided to turn the horrible thing that was done to her into a way to stop other girls from facing the same violence. Because she didn't have to.
-I'm thankful that Caster Semenya gets to keep her gold medal, even if the whole concept of gender testing in sports is profoundly problematic.
Above all, I'm thankful for everyone here at Amplify – and you better believe that includes YOU – for daring to believe not only that we deserve so much better than the sexual culture we've got, but that we can do things every day that bring us closer to the healthy, safe, pleasurable world we deserve.
As the new fall season in television begins, I've been finding myself following the same US shows I used to, and some new ones. I've been impressed with the imagery, writing, and content of some series, but not enough from just one show to focus just on that for an entire post. Instead, I'd like to share some of the highlights that I enjoyed, and some that were troubling.
Law & Order: SVU
I've watched SVU since it first began a decade ago. It almost seemed like an expected show for me to include on my roster with my focus and interest in sexuality. I'll be the first to admit there are several things about SVU that unnerve me and perhaps that list of things requires a separate post, but just know that I know. Now, on a recent episode, "Hardwired" which aired October 21, 2009, Dr. George Huang performed by B.D. Wong came "out" as an Asian gay man. The episode focuses on a young boy who is being molested by his stepfather. The stepfather has found an online community of pedophiles who argue that their relationships are not taboo. The group is called Our Special Love (OSL), which Dr. Huang argues goes a step further beyond the North American Man/Boy Love Association (NAMBLA). While discussing the science that president and CEO of the group use to validate their relationships to advocate for pedophilia to be seen as a new genetically based sexual orientation and compare their "persecution" to that of gay people in Iran and Iraq, Dr. Huang states "Pseudo science like this insults my intelligence as a psychiatrist and my humanity as a gay man."
When I shared my surprise with some friends a few thought: "that was implied" already in Dr. Huang's character. Now, I can't recall any time this was implied, and perhaps that's because I was not looking for such implications or hints because I was focused too much on another issue in the show. Or perhaps it is because it is rare that a gay Asian actor is cast to play a gay Asian character. If you watch the show, what were some of your thoughts?
Private Practice
I've watched this Grey's Anatomy spin-off since it first began. I watch it for a few reasons: first, there is a Black heterosexual couple (Sam Bennett performed by Taye Diggs and Naomi Bennett performed by Audra McDonald) they are both doctors and have speaking and lead roles. Second, I really like Amy Brenneman and missed her since her last show, Judging Amy, which she played the lead. Third, They incorporate a holistic approach to healthcare (they have a male midwife, and a doctor who offers and performs acupuncture, acupressure, and massage among other services), which I appreciate and am involved in. And finally, I appreciate the writing that calls out the elitism and classism among wealthy "old money" characters such as Addison.
In past seasons they addressed topics such as if to offer abortion services to clients, what roles doctors play in working with families of a child who is intersex, and coping with sexual violence and rape. The new season has kept the same ethical debates regarding various topics and last Thursday's episode "Slip Sliding Away" followed suit. In this episode a new character is introduced: Dr. Gabriel Fife performed by Michael Patrick Thornton, who is a man with a disability. His specific disability is not indicated in dialogue but he uses a wheelchair for mobility in his office and on the show thus far. He was introduced to Naomi, his supervisor, and we watch as Naomi struggles with speaking with him, negotiating/working with him, and exerting her authority because he has a disability, or as the writers crafted her to say "because he's in a wheelchair." We watch as Naomi struggles with how to approach and communicate with him.
I'm torn on this representation because not only did it normalize the ableism in our society, but it also offered far too much opportunity for writers to create ableist jokes and language for other characters to use. For example, on the Private Practice site it is written "He's a brilliant, arrogant, wheelchair-bound specialist." On the other hand part of me appreciates having a popular culture reference for discussing disability and ability with older audiences. Plus, I appreciate that they chose to cast a person with a disability to play a character with a disability. Thus, Thornton is not "performing" disability as this is his reality. If you watch the show and saw the introduction of the Dr. Fife character, what were your thoughts? Sadly, the focus of the online community chat on the Private Practice site is on the cat lead character Addison has adopted. Watch the video below at the 1:50-4:15 mark and again at the 6-minute mark for Dr. Fife's introduction:
Sex Rehab
Sigh. Just sigh. There are so many layers to unpack, deconstruct, and evaluate from this new reality show on Vh1. Part of me thinks this deserves a full post immediately, and another part of me wants to write a post after the series comes to an end with the current group. If you have not heard of this show, know that it is about "sex addicts" seeking help from Dr. Drew to overcome their addiction. More on this coming soon!
America's Next Top Model
Tyra Banks demonstrates questionable judgment again when she does a foto challenge for the remaining contestants in Hawaii requiring the contestants to be in Black and Brown face. I'm not making this up! See:
I'm not going to write any more about this topic because several great writers have already deconstructed and evaluated it in such an extensive way there is really nothing more for me to add. To read more from an intersectional academic standpoint with information on how to contact Warner Brothers, Benny Medina and, Bankable Productions go directly to Prof. Susurro's blog post here. For a mash-up with fotos from the shoot written Deputy Editor of Racialicious, Thea Lim, check out her post here. If this is your first visit to Racialicious (and I'm sure it's not if you've been reading posts by other Amplify bloggers) this is the space where you WANT to read the comments because readers are important part of the conversations that occur on the site.
In case you haven't heard, congress has choosen to protect Lesbian, Gay, Bisexual, Transgender, and Queer people by now including them as part of the group of classes of people that are discriminated against in this country and around the world. LGBTQ victims of hate crimes, illegal acts against people motivated by an intolerance or prejudice, will now be ensured that their assailants will not go unpunished or treated tepidly. Since 1969, race, color, nationality, ethnicity, sex, and religion have been recognized as protected classes, and now because of the passage of The Matthew Shepard and James Byrd, Jr. Hate Crimes Prevention Act, gender, sexual orientation, gender identity, and disability will soon be included as protected classes of people. So what does the new law mean?
For more than a decade, senators have been fighting to extend protections for LGBTQ people and this Thursday their efforts along with the efforts of civil rights and gay rights activists paid off when the Senate passed the extension of hate crimes legislation. Because several states already enforce hate crimes protections upon LGBTQ people, the federal government will not change existing laws but will instead broaden the range of actions that can be considered biased against LGBTQ people such as preventing someone from voting or going to school because they are LGBTQ. The bill also includes available grants to help state and local governments fight the prevalence of hate crimes. Although the bill won't prevent hate crimes, per se, the Matthew Shepard Act is a sign of great things to come during this era of rising progressivism in our nation. There is no doubt that the passage of this bill will pave the way towards future pro-LGBTQ legislation under the Obama administration.
Now that the bill has passed both the house and the senate, all we have to do now is wait for the president. We've been waiting for years for this bill and months for President Obama to fulfill his campaign promises to the LGBTQ community. We'll be watching what he does when he signs this bill and what he has in store for the future of civil rights.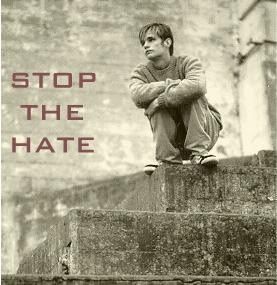 Monday marked the eleventh anniversary of Matthew Shepard's death, the young man who was brutally beaten and left for dead in Laramie, Wyoming because he was gay.

Since Matthew's death, his mother and countless others have lobbied Congress to pass hate crimes legislation that extends protections to sexual orientation, gender identity, and disability; and it finally looks like it will head to Obama's desk in the next week or two (despite Republican outcry that it will imprison people for their homophobic thoughts).

Shortly after his murder, the New York-based
Tectonic Theatre Project
headed to Laramie with the intention of interviewing people affected by the event. The resulting play,
The Laramie Project
, has become one of the most-performed plays worldwide. I had the privilege of being a part of the cast at one of the first high schools to perform the show in 2002 (in Kansas City, Missouri).
To commemorate the Matthew's death, Tectonic returned to Laramie to interview those individuals who had been included in
Laramie Project
to see what, if any, impact his death still had on the community.
The Laramie Project: Ten Years Later
was performed in hundreds of cities across the US, as well as several countries, and showed us that even though Matthew Shepard has remained a prominent figure in the LGBTQ community, many in Laramie would just as soon forget about the entire incident.
I was able to catch the performance in Washington, DC produced by
Arena Stage
and it was spectacular.
One of the more depressing aspects of this epilogue is the fact that, even though it really woke up America to the violence facing its LGBTQ citizens, so many have spent the last eleven years trying to disprove the murder was a hate crime. ABC's
20/20
produced an episode casting the event as more of a drug-induced robbery gone wrong (PBS later disproved most of ABC's accusations). Earlier this year, Congresswoman Virginia Foxx (R-NC) called his death a hoax. And now that it looks like hate crimes legislation will
finally
be passed on the federal level,
Republicans and conservative pundits are coming out of the woodwork and revealing their hatred towards LGBTQ individuals
.
As I sat in the theatre on Monday and listened to the producers tout the fact that Laramie Project has been seen by thousands of people, I found myself wondering how much of an impact theatre, and this play in particular, could have on audiences? Is theater – a stereotypically gay safe haven – the best artistic medium to change people's minds? Or has The Laramie Project simply been preaching to the choir?

I remember being a senior in high school and putting on the show. I was still coming to terms with my sexuality so I was not very knowledgeable about LGBTQ issues, but I do remember the school-wide dialogue the play cultivated. And surprisingly, most of the conversations were generally very supportive. And while television, film, and the internet certainly have a larger audience, perhaps plays are better tools for younger generations, being more interactive and engaging. And even if the cast members are the ones most affected by the production, it's a start.

The Laramie Project may not have changed the minds and hearts of millions (as evidenced by many of our elected officials), but it gave a voice to those who had none. And if nothing else, I can speak on behalf of those who are a part of the show's production: It really does make you want to stand up and fight!
**Spoiler Alert**
A few weeks ago I mentioned that I was going to see
Jennifer's Body
simply to support one of few women of Color directors:
Karyn Kusama
. This weekend I went to 42
nd
Street/Times Square with my homegirl
Erika Lopez
to see the film. We caught an evening show on Saturday night. The theater was small even though the film was showing just about every hour. However, the showing was close to sold out. Erika and I sat in the front fourth row because we like horror and enjoy being all up in the middle of the screen.
Now, the audience was most definitely 98% people of Color, 90% under 25 years old, and a mixed group of gender identity. Erika and I knew to expect that we would be the "old heads" in the crowd, but neither of us mind. I knew to expect a lot of call and response from the audience, and that's exactly what happened.
Here's the deal: the film is terrible. I know I wrote a nice long article about how marketing was less than exceptional, how Kusama spoke about the skewed marketing, how her comments about that made me want to see the film even more. The reality is, the script is incredibly awful and tries so hard to sound "cool" that viewing the film was painful. And not just painful in the Bianca-is-not-the-demographic-for-the-film kind of way, but in the way where Erika exhales loudly about four times, I had to adjust myself in my seat over 10 times, and when the film was over I asked Erika if she wanted me to pay her back the money she dished out to see the film (she didn't want to go but went with me because she's my homegirl and I convinced her a double header to see Capitalism: A Love Story was a good idea for her rainy Saturday in NYC).
The most fascinating part of the film was how the audience responded.
Not only did they not laugh at the parts of the film that screenwriter and executive producer Diablo Cody wrote, but also when they did laugh it was more of a pointing and laughing response. For example, there's one point in the film when Megan Fox's character Jennifer says to her friend "Needy" played by Amanda Seyfried, "You are such a player hater." Now, the audience I was a part of laughed at this, not because it was true, but because Cody attempted to write a character who was attempting to appropriate, use, and perform the phrase that became commonly used within specific communities of which neither Cody or Fox have membership. They laughed at her performance. They laughed at her attempt to appropriate language they no longer use. They laughed at them. I laughed with the audience because of their reaction.
Now, the poor writing and lack of any horror in the film is just the beginning of where the pain begins. There are the characters, clearly racialized violence in the film, over-emphasis on disability, and "the kiss."
Let's begin with characters and racialized violence. The first time we see people of Color they are institutionalized in a mental health facility. Within that space, we meet the first person of Color with a speaking role, a Nutritionist played by
Candus Churchill.
The Nutritionist has no name, yet is a Black woman who speaks to Needy in the cafeteria. She is kicked in the face by Needy and spits out a tooth on the floor while the other patients cheer. Prior to being retrained, Needy spits on the Nutritionist who is bleeding on the floor. Great. Just 5 minutes into the film, in one of the first scenes a Black woman is being kicked in the head by a White teenage girl.
I had to tell myself to take deep breaths.
The audience was not impressed either. There were no reactions similar to those that were prompted by watching trailers of buildings blowing up and men fighting that were mixed with laughter and awe. Instead, the response was one of "oh hell no." The audience was not happy and neither was I. Yet, it says something about those involved in creating the film that they feel confident presenting violence against women of Color. It also says something about those of us in the audience who did not appreciate the scene and made it known.
We are then taken back in time to discover how Needy became institutionalized. We are taken back to high school. There are only three people of Color at school: A Black heterosexual couple who has no speaking role and that we see only once, an Asian American student named Chastity played by Valerie Tian who was also in Juno, and Ahmet from India played by Amen Johel who was also in Juno, but Ahmet has no speaking role. Now other identities are also presented, such as people with disabilities through the character Mr. Wroblewski played by J.K. Simmons (he was also in Juno). Mr. Wroblewski is a science teacher who has a "mechanical arm" that very much looks like a hook versus the prosthetics that are now available.
Now the most complicated character is Chastity. She speaks the most, and challenges the stereotypes of Asian women being passive, docile, and quiet. She speaks her mind, gets angry, is aggressive, and has convictions. However, her convictions and anger are focused on maintaining that an all White boy band maintain their status as community heroes. She protects the White men in the film; the men, we later learn, harmed Jennifer, which resulted in her demonic ways.
Part of Jennifer's demonic conversion is to feed off of humans to gain energy. Her first victim is Ahemet, who we are believed to be a foreign exchange student. Ahmet from India is called that by everyone in school as if those three words make up his entire name. Even Mr. Wroblewski calls him "Ahmet from India." Ahmet becomes Jennifer's first victim who she murders and feeds on after realizing that nobody knows he's alive and that she can kill him and make it seem he died in a fire they both survived. Take home message: Ahmet is so disposable he can be murdered and nobody cares about him enough to miss him.
When it comes to presenting the small city of Devil's Kettle as having some diversity, including communities of Color is not the only attempt. There is too much emphasis on Mr. Wroblewski's disability. Each time he is on the screen there is an attempt to show his arm. The second time he is on the screen he is introduced by focusing on his arm that is holding papers and walking toward his desk. Was that really necessary? It gave me the impression that I was supposed to laugh during that shot. What a great way to continue the socialization of staring at people who are different versus examining how difference is a strength not a weakness.
The entire time I was watching I wondered: how could Cody not know this would be
DOA
? She boo-hooed to Entertainment Weekly about the bombing of the film the first week in theaters yet refuses to recognize why this could be. One thing I've learned is that young people are more clever and astute than people give them credit for. I wasn't surprised to witness the failure of this film. I wasn't surprised it was not well received. But I was surprised with what occurred when "the kiss" was shown.
By the time the scene with "the kiss" between Jennifer and Needy arrives, we are halfway through the film. The
clips that were shared to prove to be a teaser were just that, a tease
. The kiss was more than just a few seconds. Not only did the kiss begin with the women standing up, but also it ended with the women laying down. Now, call me old fashion, or call me honest, but for me kissing standing up is totally different than kissing lying down. We watched Jennifer and Needy kiss for almost two minutes. That's a pretty long time for a film that we are led to believe is heterosexist (and it is) based on the marketing to men.
During "the kiss," young men in the audience began to verbalize their excitement and the twitching of their body parts. One young man sitting on the right hand side of the theater yelled out "lesbian!" A handful of other young people laughed when he said this, but it was the reaction of one young woman that made me smile. In a crowded movie theater a young woman sitting on the left hand side of the theater said: "Hey, there are lesbians in here too." Now don't get this twisted, she was not saying it in a "we can do that too" kind of way, but in a defiant, you better respect us kind of way. To the young woman in the theater that day, high-5!
And high-5 to everybody in the theater who didn't find the "Thai food" line as funny as Cody hoped. Nobody in the theater had anything to say when this line was spoken. I want to think we all simultaneously rolled our eyes. A collective eye roll.
A few other things that came up for us while watching was the representation of women and how we build and sustain relationships and friendships with one another. At one point during the film when Jennifer is being sacrificed to Satan by a boy band, Erika looked over to me and asked: "This is supposed to be feminist?" To which I simply responded with a "humph." Then I thought about her question for a moment, leaned over toward her and said: "perhaps they validate the feminism because Jennifer 'rises from the ashes'." Is this really where feminism(s) is/are going? If it is, what does it teach us?
I thought about this on the subway ride back home. What does this film tell us about the abusive relationships girls and women have with one another? Are we expected to maintain friendships with women even when they are filled with pain and violence? The relationship between Needy and Jennifer was established in childhood and for that reason we are to believe it should and will sustain them into adulthood. How does this film push stereotypes of heterosexual women constantly arguing over men in their lives and fighting for the men versus for one another? My hope is that just as the weak attempts at creating and introducing new language and terms to the audience didn't work, the messages about women constantly being in competition with one another won't work either.
So, what was "right" with the film? I really can't say. There were times when I tried really hard to focus on the cinematography because that is why I went to see the film. But it was difficult to get beyond the horrendous script. Erika and I both agreed there were moments where Kusama did shine, such as in the focus of the movement of Needy's dress towards the end of the film, her close up of characters faces, and the movement of spanning across a room. If you do decide to see the film wait until the credits roll when you will see scenes that, in my opinion, are the best of the film.
A groundbreaking bill was introduced, the Ohio Prevention First Act, a bill requiring comprehensive sex education in Ohio schools. Not only does the bill mandate age-appropriate medically and scientifically accurate sex education about abstinence and safe sex, it is also inclusive of gender, race, religion, disability status, sexual orientation, and gender identity.
Some key points of the bill:
*"Ensure that sexual assault victims have access to emergency contraception and testing and treatment for sexually transmitted diseases in all hospital emergency rooms.
*Create a state teen pregnancy prevention task force that would recommend medically accurate and scientifically proven effective programs for reducing Ohio's teen pregnancy rate.
*Require a pharmacy to dispense any prescribed drug, device or over-the-counter medication in stock without delay, consistent with the normal timeframe, and ensure that every licensed pharmacy does not intimidate, threaten or harass its customers in the delivery of services.
*Require the Department of Health to create materials to educate medical professionals and the general public about emergency contraception and to make them available on their website.
*Forbid a health insurance company from limiting or excluding coverage for FDA-approved prescription contraception if the policy covers other prescription drugs or devices."
Two senators are presenting the bill, Senator Teresa Fedor (D-Toledo) and Rep. Tyrone Yates (D-Cincinnati -woot!). This is a major step for Ohio sex education, and for bettering the lives of our youth. I'll keep you posted on progress.
x-posted Midwestgenderqueer.com
x-posted buckeyestateblog.com
x-posted ohiodailyblog.com


Life is hard.
Life is painful.
Life is short.
Life is precious.
I have been waiting pretty much all my life for a movie to come out like this. I have watched the trailer at least 3 to 4 times now because I simply can not get enough. I am elated to see a film coming out that deals with so many powerful issues. Here is a brief synopsis of the film from the Official Website:
"Based on the Book

Push

by Sapphire, [this film is] ….Set in Harlem in 1987, it is the story of Claireece "Precious" Jones (Gabourey Sidlibe), a sixteen-year-old African-American born into a life no one would want. She's pregnat for teh second time by her absent father; at home, she must wait hand and foot on her mother (Mo'Nique), a poisonously angry woman who abuses her both emotionally and physically. School is a place of chaos and Preicous has reached the ninth grade with good marks and an awful secret: she can neither read nor write.

Precious may sometimes be down, but she is never out. Beneath her impassive expression is a watchful, curious young woman with an ichoate but unshakable sense that other possiblities exist for her. Threatened with expulson, Precious is offered the chance to transfer to an alternative school, Each One/Teach One. Precious doesn't know the meaning of "alternative", but her instincts tell her that this is the chance she has been waiting for. In the literacy workshop taught by thte patient yet firm Ms. Rain (Paula Patton), precious begins a journey that will lead her from darkness, pain and powerlessness to light, love and self-determination."
Precious, the title character, is a young woman that has been dealt a very difficult card in life. She lives in a world where her size and body are not accepted. In addition, she struggles with a disability at school and then goes home to face poverty and abuse. Although some of us have faced a few of the struggles that Precious must tackle in these films it is rare that someone goes through all of them at once. Life is certainly hard for Precious but it seems from the trailer that the filmmakers did not want to stop at merely describing her horribly disadvantaged situation.
This is a film about resilience.
I can not wait to see how Precious is able to escape from her current life and moves on to a better one. It definitely seems like it will be a challenge but I want to be there as she experiences that challenge. This film resonates with me because I too have struggled and overcome some of the same issues. Also, as a young black woman I find it rare that films like this come along that seem to tackle "hard" issues like urban poverty, inter-familial violence, incest and problems in school.
I am excited about these aspects of this movie because I hope that it can open up the eyes of many in America who are blind to urban poverty, today's racism, child abuse and the problems of inner-city schools. For many people out there the only exposure they get to urban poverty is the BET/MTV pop version of "ghettos" where money, gangs, drugs and misogyny are exploited, glamourized and packed for consumption. However this is quite far from reality. The facts speak for themselves, for example, in 2003 the US Census reported that 8.2% of European Americans live in poverty compared to 24.4% of African-Americans. ABC News also ran a report that the disparity in education outcomes at the higher education, secondary education and primary education may be narrowing in some areas but is actually getting worse in others. Unfortunately, those who believed that the US would transform into a post-racial society on January 20, 2009 were very mistaken, there is still alot of work to be done in terms of addressing inequality in America.
My only fear however is that those same people who may get their first exposure from this film, may also be quick to generalize what they see in the film to all black girls, families, neighborhoods and culture. Another fear I have is that people will personally disconnect from this film because they can not "identify" with the feminist, disability rights and human rights issues that arise therein. These problems are not simply "other people's problems" but are real problems that can affect anyone. You do not have to be black or be a woman to be a victim of bias, objectification or isolation. Anyone can face difficulties in life and we all do– this movie is about the strength of the human spirit and how we can form supportive communities to lift ourselves and each other up from bad situations.
I hope that people can realize that although we may not all go through these exact problems, that does not mean that they should be any less real to us. Nor does it mean we should look down on or patronize those who are affected. Wanting to help or spread awareness of problems is great but stereotypes, objectification and forced alienation are very limiting and counterproductive. Black people, women and people with impairments do not need pity nor do they need paternalism. Everybody deserves respect and dignity. Everyone also deserves a level playing feild from which acess to safety, health and education that does not have to be divided according to ability, socioeconomic or racial lines.
As I said in my last blog, the main concern for us at Advocates for Youth is the preservation of the health and lives of this generation's youth, and granting all people the right to know about their bodies, and learning how to experience sexuality safely, by means of comprehensive sex education. This is a huge issue, and (for some reason) incredibly controversial one. So with the current health care reform conversation and work circulating around the offices of our politicians, the AFY peer educators and community and campus organizers put on our fancy duds and made our way up Capitol Hill (which I came to discover is an actual, honest-to-blog hill that I was way not prepared to take on) to get some one-on-one with the representatives and senators from our districts about their knowledge involving the very closely linked issue of comprehensive sex education, their views in regards to it, and their position on the REAL Act.
For those of you who are unfamiliar with the REAL Act (Real Education About Life), this is a bill sponsored by Senator Frank Lautenberg from New Jersey, and Representative Barbara Lee from California (and co-sponsored by over 60 senators and representatives) revolving around designating federal funds specifically towards the support and development of comprehensive sex education curriculum in American schools. Currently, there is no federal funding allocated for comprehensive sex ed. (However, President Obama did not make note of any funds that would be allocated for abstinence-only sex ed in his 2010 budget plan, which is a definite step in the right direction.) While the contents of the bill hold some similarities to that of the Prevention First Act and Obama's Teen Pregnancy Prevention Act, the REAL Act goes much farther into specifics, and on a much broader level. Through the REAL Act, students would be given the opportunity to receive age-appropriate (using the rhetoric that this demographic is familiar with, while avoiding an overall condescending tone), as well as medically accurate information. While these programs do talk about abstinence, and its place as the one sure method of birth control and a clean bill of sexual health, it also avoids the marginalization of sexually experienced students by providing accurate information about the pros and cons of each individual contraceptive and/or barrier method. This also means that, unlike Prevention First and the Teen Pregnancy Prevention Act, it covers the issues revolving around HIV/AIDS and STI prevention, as well as going so far as to develop skills about making healthy and responsible decisions regarding sexuality, identifying and preventing dating and sexual violence, teaching about the effects of drugs and alcohol on responsible judgment, all while steering clear of religious connotations and language. The REAL Act also prides itself on containing only all-inclusive language. This means that the REAL Act overtly and intentionally does not discriminate against any students, regardless of sex, race, ethnicity, national origin, disability, religion, sexual orientation, and/or gender identity. Last, and I believe the most important thing the REAL Act offers our nation's youth, is the encouragement of family communication between parent(s) and child about sexuality.
A key argument that is going to be given from the ab-only advocates is the notion that sexual education is the job of the parents, and should be kept out of schools entirely. However, this severely discriminates and marginalizes a wide variety of students on several different levels. It leaves out the possibility of orphaned youth, homeless youth, and/or youth in foster care. It forgets about immigrant families where the child may be the only English speaker in the home, making the parent(s) unfamiliar with American views on sexuality. It disregards students who are queer-identified, and are not get ready or feeling safe to come out to their families. It ignores youth whose parent(s) are vehemently abstinence-only, and leaves them with the uninformative lesson of "just don't do it". Herein lies the most beautiful, beauteous beauty of the REAL Act; through take-home lessons, as well as lessons taught within class, students are taught how to initiate conversations about sexuality with their parent(s), guardians, or key adult leaders, and create a dialogue about sexuality from a comprehensive stand-point. This brings me to my main point: issues revolving around social justice require not just public policy, but even more so require the EDUCATION of the people, or change will not occur. In this situation, the public policy is indeed necessary in order to implement the curriculum in every school through out the nation. However, the act is nothing without follow-through. Developing communication between affected parties, and educating them in the process, is the most effective way to create real change. I find this to be the case in regards to all public policy. Take, for example, the safe schools movement. In D.C., the GLSEN (Gay Lesbian Straight Education Network) public policy office networks with legislators, and provides input and support on acts revolving around safety in schools for students, focusing on protection of students in regards to sexual orientation and gender identity/expression. But without the education of the students that are harassing these youth in the first place, what good does the act do? In reality, it could only put these victims in greater danger through potential backlash coming from these oppressors after the discipline has been carried out. In order to truly protect victims of queer bullying and harassment, students must be educated revolving around the issues facing the queer community, and learn the effects of their actions through the persynal stories of queer harassment victims. Continuing to push authoritarian rules and regulations is not going to change behaviors the way intimate, egalitarian conversation and education will.
In short, grassroots grow on the sides of the streets. When that's where you're working, and marching, and teaching, it's much easier to watch them grow.