Category >

Sex Education

Thanks to Rick Santorum's comments about contraception, and his subsequent attempts to dial back those comments, one of the weekend's two Republican presidential debates contained a lengthy interlude about contraception. As soon as Romney was done minimizing the importance of something which over 98% of sexually active women have used, he managed to force out "Contraception, it's working just fine, just leave it alone."

That would be an adequate contraception philosophy if it truly reflected Republican, or even Romney's philosophy, but we know it doesn't. In the last year we have seen many attacks on contraception — from the Mississippi personhood bill, which Romney wouldn't say whether he supported or opposed, to attempts to defund Planned Parenthood, the largest provider of birth control to young and low income women, which attempts Romney supports.

An even sillier lie in the weekend's debates came when Rick Santorum made this claim:
"In fact, he (Obama) has required programs not to talk about marriage, not to talk about abstinence, if — in order to get federal funds."
This is laughably untrue. First of all, no federally-funded sex education program leaves abstinence out of the discussion. Funds from the President's Teen Pregnancy Prevention Initiative must go to medically accurate and scientifically proven programs – all of which discuss abstinence as a 100% effective method of birth control and as a great choice for teens. Funds from the Affordable Care Act of 2010 (health care reform) must teach about both abstinence and contraception. No one wants to leave abstinence out of a discussion of sexual health, and certainly not the President.

But even if Santorum were referring to abstinence-only programs, which discuss contraception only in terms of failure rates (if at all) and have repeatedly been proven ineffective, he'd still be wrong, because as CNN notes, "the U.S. Department of Health and Human Services announced $110 million in grants in September 2010 for a range of groups, including more than $33 million for abstinence-focused programs in 29 states and Puerto Rico." That's right, another $33 million added to the well over $1.5 billion spent on drink-the-spit style programs.
Ah, but who expects Santorum not to be muddled. This is the same man who literally said that gay couples only live in certain states. It is going to be a long year.
With close to end up the year 2011, it would really be interesting to view the year back and see how much ahead we all move for the cause. It means I am only talking about Advocacy that is focus on Sexual Reproductive Health, HIV and AIDS from youth's perspectives from pure Nepalese eyes.
When we start year 2011, it was kind of hope as a youth activist in Nepal as we were going to start our work with Advocates for Youth in Nepal through YUWA. It was kind of excitement and challenge for us. So many causes for challenge but which of course over masked due to our excitement and passion to work for the cause. Advocating for an issue is not just working for some project or doing some workshop or conference. It is far more strong shot for us and we were excited as we, at that time, were confident enough to bear that all.
The time we started to work with Advocates for Youth were the time when all youth in our neighbor countries already started to unite for the same causes, where lots of work were done and some visible impact started to see. In our country also, story was similar. So many successful and so-called advocacies were going on and which is still there. However, the difference of our entry was with force of young people. (I mean here are young people of age below 24 years.) So many organizations still working in Nepal for whom youth means not old, means whose beard is not white. But for us, it is who is below certain age line, who have that energy to make change, and who have hope of long life ahead to live in rights based society.
The background when we stared to work was so much funny in one sense and so much tough in other sense. I am still not convinced that we became able to change that stereotype but I am very happy that we become able to hit there that people start marking the energy of young people, creativity of young people in all aspect not only as beneficiaries of program but also as professionals to plan those programs.
Year 2011 was really a great activism year for world also. For HIV activism it was really important year, for youth activist also it was really important year and so many other marking events for year 2012 already started to be planned in this year. In this verge of this platform, we have run a long way.
I remember the day when we set two policy objectives during our Council training in Dhulikhel. That was about youth leadership and sex education in schools. Before that also there were so many trainings, so many people talked about it, so many young people were trained to be peer educator but no one were really loud to speak out about change in policy which is guiding us to give that education. In that sense, we become pioneer to be that voice raiser from ourselves it mean from youth itself.
By saying this, I am not criticizing the very successful advocacy effort taken by Family Planning Association of Nepal (FPAN) but just saying the young people itself become able to speak for themselves, which may have greater success if we become able to do Youth-Adult partnership now.
I really cannot measure how far we reached for our advocacy objectives but I am pretty sure about the change we become able to create. It was really not a joke to have young people discussing policies rather than just programs and working for it. So, breaking the stereotype and building the foundation was happened in year 2011 but still we need to build the house and society where rights of people be always right. Rights of young people be always right and they become able to use that freely.
Therefore, looking behind 2011 and being strategic, it is really a good time to hit the iron, as this is hot now. Still should not forget our failure during the year 2011. Fragile nature of young people and keeping the energy live for whole year is always a problem for advocacy, which is not going to be changed next year. Let's continue the effort with great hope for 2012 and lets concentrate on what we become able to build in 2011 and make that bigger in 2012.
Thank you for all the help you all did so far and hope the same for 2012. Happy New Year..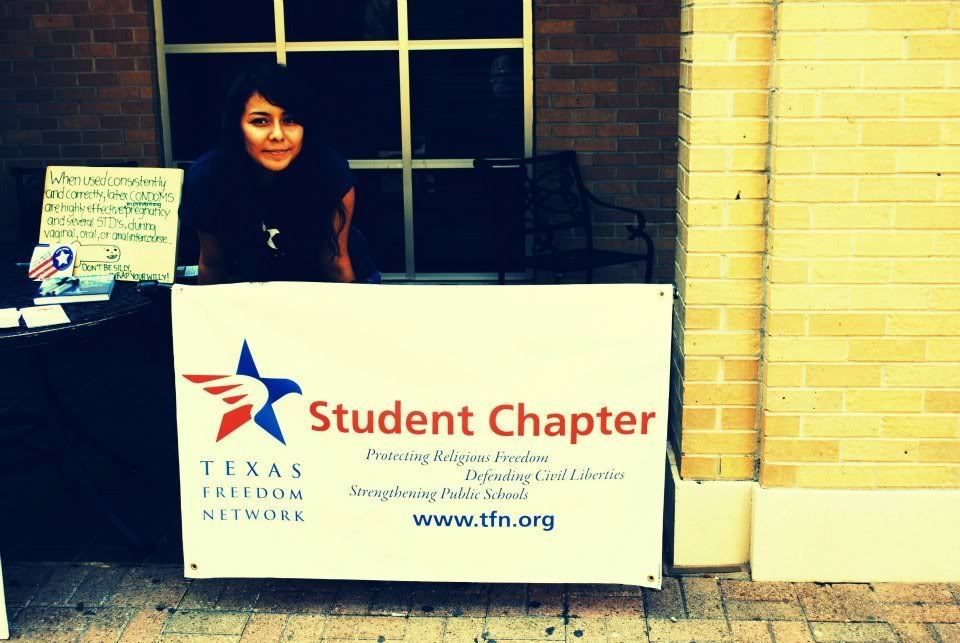 This is me at a petition drive!
La historia de una activista.

When I was selected on an internship for the Texas Freedom Network, I was ecstatic. I knew that this internship sought for activists. At first, I was a bit hesitant, not because of activism but because I had never done any actual activist work. However, I knew that I was passionate, committed, enthusiastic, and prepared. The Texas Freedom Network's beliefs were what I believed in, specifically advocating for comprehensive sex education in Texas. Also, I became an advocate under the Cultural Advocacy and Mobilization Initiative. Through the help of my youth coordinator, Garrett Mize, my fellow TFN members from Texas, Advocates for Youth, and Amplify, I learned [and I am still learning] how to develop into a passionate, strong, and fervent activist.

This semester, I successfully established the Texas Freedom Network Student Chapter at the University of Texas at Brownsville, Texas. It was a tedious process to become a registered organization, however, I am extremely proud to say that the TFN Student Chapter at my university is the FIRST and ONLY POLITICAL ORGANIZATION that advocates for many issues that are prevalent in Texas [as well as the entire United States]. I do feel that our university was in need of a political organization other than the Student Government Association because many students are unaware of the issues that are occurring.

The first event that the TFN participated in was College Radio Day. We held a small petition drive for comprehensive sex education. It was an interesting experience because a lot of people were asking many questions. We had mixed emotions regarding comprehensive sex education. Many students were not given any sex education, others did not know that we had abstinence-only programs, and a few believed that we should not have comprehensive sex education because youth are ultimately to blame if they become pregnant or acquire an sexually transmitted disease. Also, we mentioned how LGBT youth are almost always not included in sex education. They are definitely excluded from the curriculum. All in all, we had a great turnout. Many people believed in our cause.
Students at UTB signing petitions!
The second event the TFN held was a bigger petition drive; however, we had help from the Great American Condom Campaign. For this event, there were over 100 petitions signed for comprehensive sex education in Texas. Not only did people sign petitions, we talked to people about safe sex and why it is important to have comprehensive sex education. We provided information regarding statistics, contraceptives, and STI/STD prevention. Lastly, we distributed over 200 condoms! I think this was the most interesting part of our event. Many people were asking questions as to how I had so many condoms. I explained the GACC to the people. Everyone was excited and happy that a student was actually distributing condoms and for our cause. We tried to create an inviting environment because we know that many people do not feel comfortable in talking about these issues [it also has to do a lot with the culture!].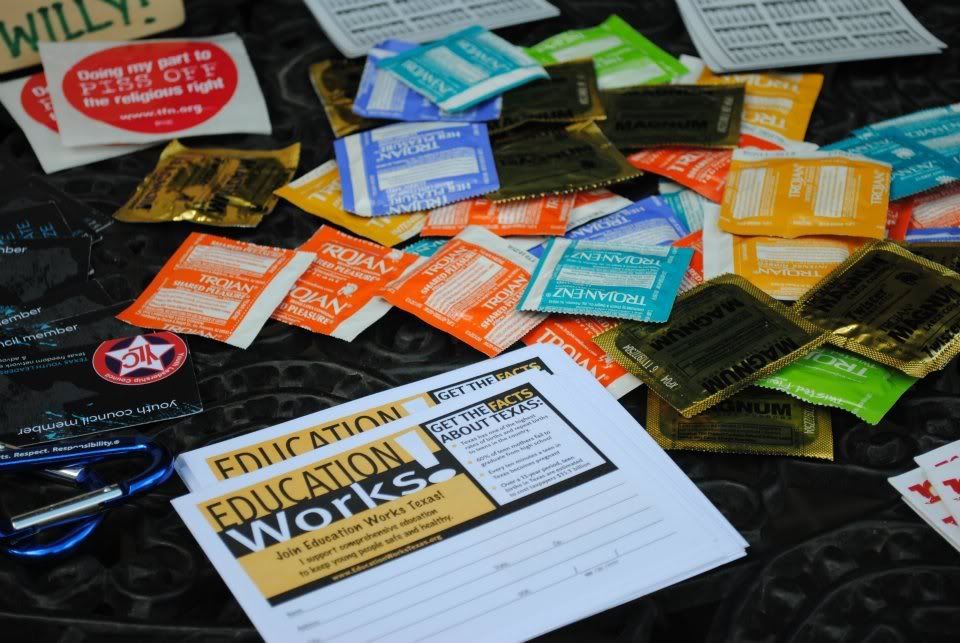 Our table!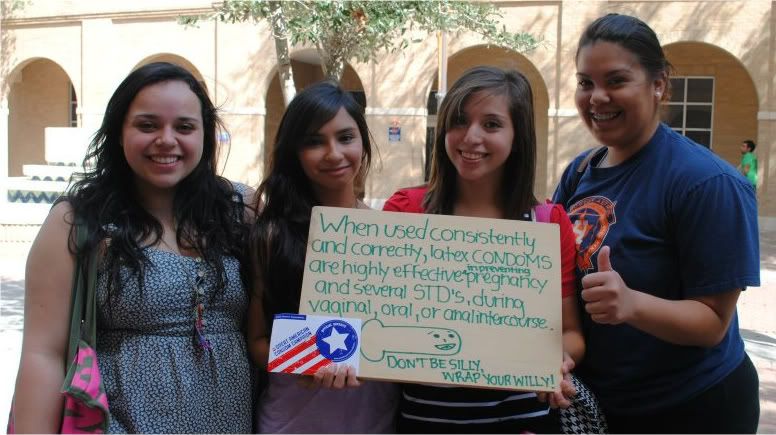 This semester, I joined the School Health Advisory Committee in the Brownsville Independent School District [I have a blog for this!]. Currently, I will be working on making a recommendation for comprehensive sex education and presenting it in the following meeting [February!].
Even though I did not host many events like I would have liked to, I feel like I did a great job this semester in bringing the cause into light. Many people were unaware of the statistics and the policies that are in place. Now, I have all the confidence in my acitivist work. Texas, like most of the United States, is making a disservice to youth by not providing them with medically accurate sexual health education. Ultimately, it is up to us to make a change.

Today the House passed an appropriations bill that brought back abstinence-only-until-marriage funding that study after study has shown just doesn't work! (Pissed? Take action and tell us what YOU would spend $5 million on #InsteadOfAbOnly) Check out sex education champion Rep. Barbara Lee speaking about why she voted against this bill.
Please take a minute to call her office and say THANK YOU for being a sex education champion! Her office number is: 202.225.2661.
And here's another great video from today where she speaks more in depth about the other problematic issues in the bill including a federal funding ban for needle exchange programs and a ban on DC using its OWN money to provide abortion care to low-income women in the District.
…someday I will learn to come up with catchy, creative titles for my blog posts. But not today.
I don't know what you've heard about the Heartbeat Bill in the state of Ohio, but it is quite crazy and needs to be stopped. The bill states that abortion will not be legal after a heartbeat is detected, even in the cases of rape, incest, health of the mother and viability of the fetus (whether or not it can live outside of the womb). There are a whole host of issues with this bill, a few of them being:
– Most women don't even know they're pregnant until they are at least 6 weeks along; a heartbeat is typically detected for the first time around 4-6 weeks. Therefore, this law essentially outlaws abortion for everyone who is not expecting a pregnancy.
– It forces women to carry an unhealthy fetus to term knowing that within hours after birth the baby will die.
– It forces survivors of rape to carry the child of their rapist for 9 months.
– It is UNCONSTITUTIONAL! The ACLU has already declared that it will file a lawsuit against the state if this piece of legislation is passed.
– There are hundreds of other reasons as to why this whole thing is terrible, but I won't spend all of my time telling listing them…
The bill was passed in the Ohio House of Representatives, and was then passed on to the Senate Committee on Health, Human Services and Aging. Last week, supporters of the bill testified in front of the committee; some of these individuals speaking about how they had at least one, if not two abortions and now regret their decision after seeking help from extremely religious organizations that have shamed them into believing that they are murderers. Other supporters of the bill testified this week with thousands of Bible verses and incorrect "facts" about abortion. I also testified on Tuesday (after about 7 hours of being at the statehouse and 4 hours into the committee hearing)… but I was testifying against the bill. Some main points that I made were:
– I am a female of childbearing age & this legislation that directly impacts me & my peers (I had to point this out as the majority, if not all of the pro-lifers were white, male, and (of the women) post-childbearing age.)
– Until the state government was willing to fully fund education and social programs (including adoption services), they should not be passing a bill that requires families to bring another child into this world that they are unable to care for.
– This piece of legislation tells me that my state government does not respect me as an individual or trust me to make the best decision for my life and my body. Therefore, it makes me want to take my Master's degree & income tax from my well paying job to another state where I am respected and trusted.
– There must be a separation of church and state. While I don't know if I would ever have an abortion, I do know that it's not my right to make that choice for someone else. We are all entitled to worship or not worship in whatever way we choose; we should not be subjected to follow the rules of someone else's religious beliefs. If your faith tells you that abortion is not a good choice, then you should take that into consideration for your own life; you cannot make someone else abide of the rules of your religion. (I wish I would have articulated this point better after hearing all of the other testimonies…)
– We need to stop wasting time trying to pass unconstitutional legislation and start investing in prevention that works, ie: comprehensive sex education.
Other interesting points made at the hearings on Tuesday and Wednesday were:
– How many individuals on the pro-life movement are adopting children? Specifically children born right here in Ohio, not from third world countries. Realistic answer: not enough.
– What is the pro-life movement doing to support other issues such as education, Medicaid and social programs to support children outside of the womb? Realistic answer: nothing.
– Is Faith to Action (the pro-life group sponsoring this legislation) going to pay the state's legal fees when this is taken to the Supreme Court for being unconstitutional? Given answer: Only through tax dollars.
– Will current and future physicians choose to practice medicine in Ohio knowing that they could be arrested if they felt the best medical decision to save a patient's life was to abort their fetus? Answer: Yes, with absolute certainty.
Testifying was a great experience! The room was definitely full of tension, and it certainly was a longggg day – but we made it out alive! I felt very respected by the committee, and occasionally individuals on the othe rside of the debate were semi-cordial. After the hearing was over, I spoke to my senator (who happened to be the vice chair of the committee). He thanked me for coming down and stating my views on the bill; he then went on to express how even though there are very strong beliefs on both sides, he has the highest respect for individuals (especially young people) who come to Columbus to make their voice heard (meaning he didn't agree with me, but he was glad I was there).
The only downfall to all of this was that there were VERY few young people there testifying. While the pro-choice-ers had a few young people testify, the majority of all people who spoke were 40+…. It made me realize even more how important it is for young people to get involved & make their voice heard. No matter where you stand on an issue, if you feel passionately about it and have done your research to develop an opinion, let the legislators know how you feel!! You are the future of this country and the decisions made today are about YOUR life – they will impact you & generations to come. Voting is huge, but advocating for something can make an incredible difference. Get involved, folks! Stop letting the baby boomers make all of the decisions – this is YOUR country, too!
If you're wondering what happened with the heartbeat bill – it is going to continue to sit in the committee until further notice. The Senate president told the committee chair to suspend all hearings on the Heartbeat Bill until further notice (which is good news for us because their goal was to pass it by Christmas) …. So who knows when hearings will come about again, but thankfully Ohioans maintain their right to choose…. for now. :-/
Oh, and here is the link to the news clip with my testimony!
http://www.10tv.com/content/sections/video/index.html?video=/videos/2011/12/14/heartbeat-bill-.xml
So, Congress introduced its appropriations bill late last night to fund the federal government through the end of the 2012 fiscal year. There's good news and bad news.
GOOD: Your calls to Congress made a difference! Even though new abstinence-only-until-marriage funding was reintroduced, they will only receive $5 million. That's a step in the right direction.
BAD: We've seen this before. The Community Based Abstinence Education (CBAE) fund was launched with only $20 million, but its annual funding was scaled up to more than $110 million in just a few years. $5 million is just the beginning.
By now we all know that the majority of Americans oppose an abstinence-only approach to sex education. What makes this worse is that Congress has been raging for months about slashing unnecessary spending and cutting the deficit. $5 million for abstinence-only-until-marriage programs is like taking a match to taxpayers' money and simply lighting it on fire. (Actually, it's even worse than that. Research has shown that these programs have no impact on teen behavior – and they also forbid students from learning about contraception and condoms.)
Our elected officials are fond of saying that "the people" know how to spend their own tax dollars better than politicians in Washington do, and for once we couldn't agree more. So let's turn it over to you.
TELL US: WHAT WOULD YOU DO WITH $5 MILLION?

Click here to join the conversation on Facebook.

"Like" us on Facebook, and post comments, photos, or videos on the Amplify Facebook Page explaining how you'd help people with $5 million — rather than fund failed abstinence-only programs. Download a template HERE!

Click here to join the conversation on Twitter.

Let us know by tweeting @AmplifyTweets and using the #InsteadOfAbOnly and #5mil hashtags.
I can't wait to see all of your amazing ideas – and don't worry, we'll make sure to pass them along leaders on Capitol Hill!
Last week, we were all psyched because the Food and Drug Administration recommended that Plan B One-Step (also known as emergency contraception) be approved over-the-counter for women and young people of all ages…then the Department of Health and Human Services (HHS) gave the FDA the shaft, with Secretary Kathleen Sebelius ruling that younger adolescents don't have the same capacity to think as critically as their older peers. Everybody had something to say about it, including Jessica Valenti, Jezebel, NARAL, The Washington Post, doctors groups, The New York Times, the National Latina Institute for Reproductive Health, and RH Reality Check.
Then President Obama decided to defend the Secretary Sebelius's decision, stating that, as a father of two daughters, the government should "apply some common sense" — as opposed to what? Listening to science? While I understand President Obama's stance and I can see where Secretary Sebelius is coming from to a certain degree, I also understand a couple of things:
2012 is an election year: This is really about the Obama administration taking all necessary routes to make sure that Obama is re-elected in 2012. What better way to assist in that than by appealing to the "moral consciousness" of many people who are undecided if they should vote for Obama or for the yet-unknown Republican candidate, and by throwing young people under the bus in the process?

Making access to contraception more difficult can result in negative consequences: If a 16-year-old cannot get access to Plan B, the chances of experiencing an unwanted pregnancy or having an abortion increase significantly. Thus, if the goal is to decrease the number of abortion procedures and the number of teen pregnancies, it makes sense to provide everyone with access to an array of birth control options, including emergency contraception. Emergency contraception is safe when used as directed, and it can stop unwanted pregnancies from occurring. This is why comprehensive sex education, combined with parent-child communication, is extremely important.

All young people are not the same: Secretary Sebelius's statement that younger adolescents may not have the same capacity to think as critically as their older peers makes sense on a surface level, but in working with young people throughout the years, I know that not all young people think alike, act alike, and many are more mature and can think critically than many adults give them credit for. In fact, I believe I know more young people who know what Plan B than older adults. Sebelius provided no scientific evidence that would actually say why the FDA is incorrect in their recommendation. To say that younger adolescents do not know how to effectively read a label and take the correct dosage (or that they wouldn't be able to go to their nearest clinic or to a trusted adult if they have questions) is bizarre and condescending.

The same HHS that vetoed the FDA's recommendation on Plan B is the same HHS that recommended health insurance companies provide birth control prescriptions with no co-pay starting August 2012: Was the HHS thinking about any potential damaging consequences when this recommendation was made?

Medical science should always prevail: Common sense isn't so common when it's used to trump scientific evidence. Politics should not win out over medical science. I expected for President Obama to focus more on the best medical and scientific research.
Though teen birth rates have steadily declined over the years, young women of color still experience unintended pregnancies at a disproportionate rate.
These are some reasons why not making Plan B available over-the-counter affects young women of color:
Significant barriers: Youth of color experience more financial, cultural, and institutional barriers in obtaining health care compared to white youth, and many youth of color are receiving limited access to medical services that can aid in their overall health and wellbeing. Denying young women of color access to emergency contraception over-the-counter, when they are already receiving little or no medical services, places them in a precarious situation.

Abortions on the rise: Women of color are having abortions at higher rates than white women, often because of financial constraints. With no access to Plan B, the rates of abortion will continue to rise for young women, especially young women of color.

Limited proper identification: In order to get any type of prescription, one will need access to proper identification outside of a school ID. How many young people are walking around with proper identification? This can definitely be a problem for young immigrant women.

Negotiating condom use: This places an even greater burden on young women of color who have difficulty in negotiating condom use with their sexual partners.
Yes, President Obama may have been thinking of his daughters when he defended the HHS's decision to overrule the FDA. However, many young women of color may not be growing up in homes where they have access to healthcare services that the Obama children most likely have. In order to work towards decreasing the rates of unintended pregnancies and abortion for young women of color, we need to make Plan B available for all young people.
Take action with me and many others in telling the Obama administration and HHS to stop preventing the FDA from recommending scientifically based and sound decisions for the health and lives of women and young people.