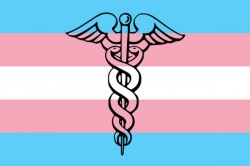 Transgender women are the fastest growing population of the HIV-positive.  The National Institutes of Health came out with a report, noting that almost a third of transgender Americans have HIV.  Trans women of color specifically are at a greater risk than their white sisters.  Through a survey, it was found that 56% of black trans women have HIV.  The 2009 study from NIH also noted that many transgender women may not even know their HIV status.  With an alarming statistic like this, we have to wonder what's causing it.
When individuals are thrown into social injustice, it can be difficult to escape from.  Trans women are profiled and disproportionately targeted and arrested by the law enforcement.    The police will try to use condoms as evidence of sex work, so trans women face the "choice" of keeping themselves and their partners safe or getting arrested.  When they're forced into jail, trans women are often housed with male inmates or they are put into solitary confinement, as if either path is any better.  Sex workers are generally more likely to be HIV-positive than those who are not engaged in sex work, but because of the disproportionate targeting of trans women, trans women sex workers' risk for HIV is four times greater.
While sex work is a valid way of meeting financial needs, some trans women turn to it as an option because of discrimination in employment.  In most of the United States, it's completely legal to turn down or dismiss a person based on gender identity and sexual orientation.  People can even be denied housing or become evicted because of their gender identity and orientation.  This leaves a dangerously negative and significant impact on their economic well-being and safety.  It also makes it difficult for trans women especially to keep up with their hormonal therapy, since it's often not covered by insurance, if they can even pay for that insurance with what the circumstances are.  With lack of access to basic health care, many incompetent doctors, clinics, social stigma, and overall institutions that discriminate against trans women, especially those of color– it's all a very nasty formula expressing why trans women are hit so hard with HIV.
So, what can we do to help?  Trans people are often absent from public campaigns for sexual health and safety.  We can start by including them into that, and into many of our discussions and campaigns of social justice as well.  We could get trans-specific in our literature in safer sex guides.  We could also set up community centers as a safe space for trans people and create some peer groups, which would be strong social networks and a good use of peer outreach for safer sex and HIV testing.  And of course we could and should create social support and do our part to de-stigmatize our trans brothers and sisters.  Look up a local or national activist organization today.
Categories:
Condoms
,
Gender and Stereotypes
,
Health Care
,
HIV
,
LGBT Health and Rights
,
Living Positive
,
NYHAAD
,
Other
,
Peer Education
,
Safer Sex
,
Sex Education
,
Sexual Health
,
Sexuality in the Media
,
Social Justice and Human Rights
,
Transgender Issues
,
Young People
,
Youth of Color